The shockingly low price of Yahoo Small Business Hosting is attractive to many small business owners. It's only after they've made a significant investment in website design and development that they discover how poor hosting service impacts their website, and their business reputation online.
Outdated PHP Leaves WordPress Open for Malware Infection
A business owner received notifications from WordPress that his core software and plugin files are out of date. Some of these warnings included known security vulnerabilities. The notices instructed him to update his site as soon as possible. He contacted Contento Interactive Group to perform the updates.
Yahoo Small Business Hosting: Long Outdated PHP
After logging into the client's hosting dashboard and navigating to the PHP versions, I was surprised to find that the hosting account had only 2 PHP versions available: PHP 5 & PHP 7.2. The latest release of WordPress is 5.8.1 which requires at least PHP 7.4. (released in 2019). The most recent release of PHP is 8 (released in Sept of 2021).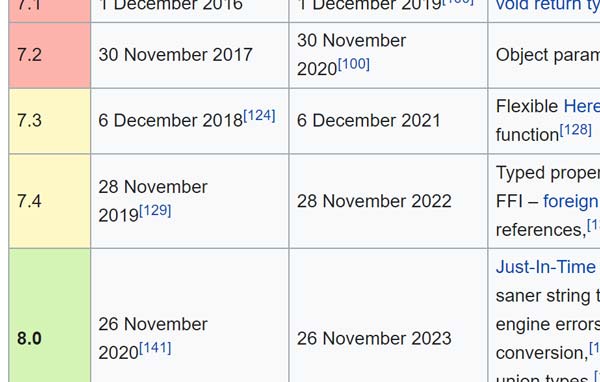 Customer Support is Caught in a Lie
I immediately contacted customer support through Yahoo's live chat feature. Below is a record of our conversation, I've highlighted the line where the customer support representative tells me a blatant lie.
Yahoo Small Business Support [YSMS]: Thank you for contacting Yahoo Small Business, my name is XXXXX. May I have your name please?

Me: Sure. Kristine

[YSMS]:Hello Kristine, how are you doing?

Me: I would like to update my hosting php to 7.4 – 7.2 is out of date and my wordpress install requires 7.4+. How do i go about do this? the option in my web hosting control panel only go as high as 7.2

[YSMS]: I apologize you had to face trouble with this. Please be assured, you have an expert assisting you in resolving this.

Me: ok. so how do we fix this?

[YSMS]: Yes, May I place you on hold for 3-5 minutes while I search for the information?

Me: sure

[YSMS]: Thank you
As I checked with my resources, the PHP recently launched the 7.4 version and our engineering team is currently working on getting the latest version of PHP on the site.

Me: say what? php 7.4 was released on 28 November 2019

[YSMS]: Meanwhile, You will be able to make changes, edit, publish the website using workpress
WordPress*

Me: The wordpress core files are outdated and need to be updated so that the site does not get infected with malware.
The current version of wordpress requires php 7.4. I cannot upgrade wordpress on the current server without risking functionality issues becuase the php is out of date
now if you offered free malware scanning and removal i'd be less concerned

[YSMS]: I understand that you want to use the latest version of PHP to reduce the risk.

Me: What is the expected date that php 7.4 will be available on the hosting account?

[YSMS]: This is already been working by the Yahoo Engineering team to get the latest version of PHP.
And as soon as they launch the latest PHP version on Yahoo Small Business, you will be notified via primary email address

Me: So you have no timeline for when php 7.4 will be available?
or is there a way to submit a request for a specific account to be upgraded?
The latest release of php is 7.8 is that something that will be available once the yahoo engineers complete the update?

[YSMS]: As of now, there is no exact timeline update from the concern team.
I wish it would be available, so that I can share it with you.
No, there is no specific account needs to be updated, it will be available for everyone at once.

Me: So what happens if my site is infected with malware while I'm waiting for this update?

[YSMS]: I understand that you don't want to take any risk in future, but the existing version of PHP is also safe to use until the update launch.

Me: I understand that the php is 'safe' to continue using, however outdated wordpress files and outdated wordpress plugins pose a significant security risk and are very prone to malware attacks/infection

[YSMS]: Yes, I understand that.
Your concern will be noted in the case notes and I wish the engineering team will launch the latest version as soon as possible.
So, that you can use the latest version without any security risk
By the way are you currently logged in to your Yahoo small business account?
And when going on PHP version, what is the last latest version you see in it?

Me: yes i am
i'm already using the latest version of php that is availlable in the hosting account.
the latest version available in the hosting account is 7.2.6

[YSMS]: Okay, I certainly understand.
I wish I could do something on it but I will definitely mention the concern in the case notes.
As there is no exact update on release.

Me: That's too bad. I've been a long time customer and would like to stay with your guys, but I also don't want to risk having my site infected with malware and blacklisted by search engines.

[YSMS]: I see that you are one of the most valued customer, I really appreciate your patience on waiting for the latest version of PHP.
You will be notified via primary email address as soon as the latest version of PHP launches.

Me: So there is no compensation or account credit available for risking malware infection on my website? It will cost a lot to hire someone to clean my site and to 'unblacklist' my domain.

[YSMS]: I certainly understand your concern on protecting your website.
your words will be noted down and will be passed to the concern team. if there is any update
you will be notified via email
You Get What You Pay For
The thing that bothers me the most about these interactions is that the customer support representative assumes the customer doesn't have any subject matter knowledge and tells an easily dis-proveable lie. And no doubt, the lie is accepted by most customers, most of the time.
And Yahoo isn't the only hosting provider with poor services. Bluehost, Godaddy, and many more offer low-cost hosting plans with services and support to match.
We Focus on Solving Problems
If your website is having issues, needs to be updated, or is experiencing slow load times or funky responsiveness – contact Contento Interactive Group.